When you discover something great, you have to share it.  Of course, how widely things get shared on the blogosphere depends upon who's watching and reading your site.  In my case, not many.  Brittany and Scott of Windtraveler, on the other hand, get lots of traffic.  And that's why their recent post about the Aeropress (and giveaway) has their readers buzzing.  Well, here's my plug for the Aeropress, written a couple years ago, lifted from the old Ariel blog.  And yes, Brittany & Scott, Aeropress makes one bitchin' cuppa joe!
Bob Bitchin Lats & Atts sailors we are not. Sundowners, Tommy Bahama print shirts, raft ups or rendezvous in crowded BVI anchorages, and pirate costume parties are completely unfamiliar – and equally undesirable.
Don't get me wrong, we appreciate the "finer" things aboard. For us, though, the finer things of life aboard include reliable ground tackle, a remote anchorage, a well-maintained auxiliary, solitude, kerosene lanterns, crisp sails, solitude, a fine hull and a stout rig. And though we indulge in a few areas, generally they enhance the boat's performance. For example, last season we updated to roller furling for the jib and staysail. One thing in which we unabashedly indulge, however, is our coffee. We take our coffee seriously.
Today as I sat sipping my morning cup in the middle of a cold Michigan winter, with memories of summer sailing swirling through my mind, I thought I'd share our method for brewing an excellent cup of coffee aboard. So forget the pirates and buxom women, this is about solitude, sophistication, and a good cup of coffee to make the moment all the more enjoyable.
Good coffee starts with good beans. Coffee Fool's Velvet Hammer is about as good as it comes via mail order – and it's certainly much better than that other brand that so many swear by. Short of roasting your own, or finding a local roaster that you like, Coffee Fool is the ticket. Their coffee is fresh, they ship quickly, and they have a variety of blends to suit individual tastes.
Good beans aren't worth…, well, a hill of beans without a decent brewing method. If you swear by drip, a percolator, or French Press, you'll soon swear them off once you've tried the AeroPress. Distributed by the maker of Aerobie frisbees, the AeroPress is compact, easy to use and clean, and a mighty fine brewing method. The critical factors of time, temperature, and ratio are easily controlled to brew an excellent cup of coffee every time. Using a chamber, plunger, and micro-filter, the AeroPress allows the user to avoid bitterness while still extracting full flavor.
In addition to the AeroPress and coffee, you'll need a grinder and a measuring glass of some sort. I find my old espresso cup works well. Here's how it works:
Step One:
Insert micro filter into cap and screw cap to bottom of chamber.
Step Two:
Place chamber on measuring glass and prepare coffee.
Step Three: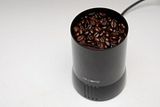 Add beans to grinder and begin grinding. The AeroPress instructions include recommendations for measuring. I've discovered that nearly filling the grinder with beans gives me enough grounds to make two cups of coffee to my taste. You'll want a fairly fine grind, much finer than drip or French Press. Experimentation is the key here: too fine and it's impossible to press the coffee; too coarse and you won't get the flavor. Although I used an electric grinder here, we use the Zassenhaus knee mill aboard.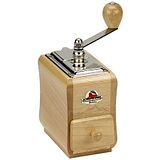 Step Four: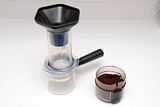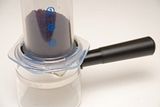 Using the supplied funnel, dump ground coffee into AeroPress chamber.
Step Five: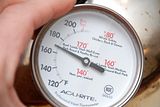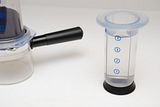 Heat water to approximately 170 degrees and fill plunger to appropriate amount.
Step Six:
Add water to grounds in chamber.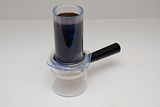 Stir for 10 seconds.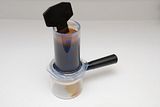 Press.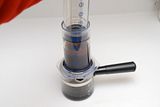 Step Seven:
You've just made a double shot of espresso. Pour out single shot of espresso into your mug.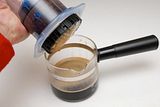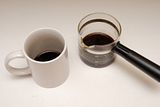 Step Eight:
Fill mug with hot water to make a cup of Americano. Enjoy!
Clean up:
Unscrew filter cage, eject compacted "hockey puck" grounds, rinse. That's it! Total time to brew two cups of coffee is about five minutes.
Now that's bitchin'!