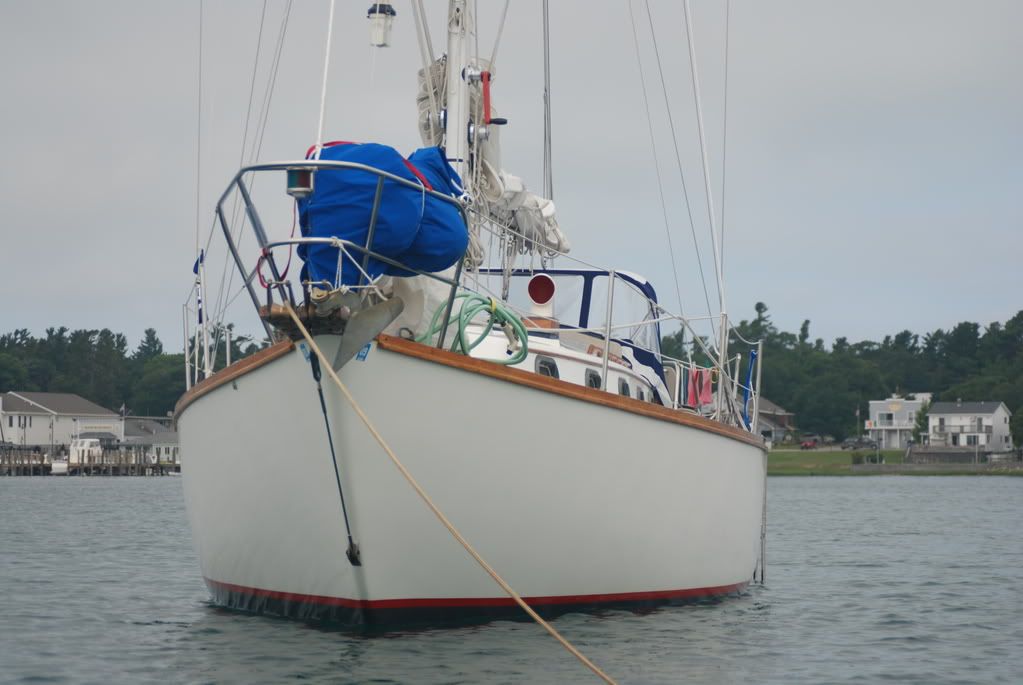 Ariel anchored in St. James Harbor, Beaver Island.
One of the great things about sailing Lake Michigan is that it's easy to feel like you've really gotten away from it all. With a harbor dotting the eastern shoreline every 40nm or so, it's easy to slip away for a weekend and enjoy a tranquil anchorage and some new sights. Beaver Island, located at the northern end of Lake Michigan, is a great cruising destination and one that really is away from it all. If you like anchoring out and prefer staying aboard reading, relaxing, and enjoying the sights from the deck of your boat, Beaver Island is the perfect spot. (If you like people, fine restaurants, and lots to do, check out Charlevoix's Round Lake, where you can anchor on short scope, surrounded by other boats, and watch the parade of boats watch you.)
The following report provides basic information about St. James Harbor and is not intended to be used for navigational purposes.
The approach to St. James Harbor is from the ESE and presents no obstacles. (The northern end of Lake Michigan presents far more navigational obstacles than the southern end; sailors unfamiliar with the area should consult their charts carefully.) Once inside the harbor, there is significant shoaling to the south and southwest, and some thin water to the north. The ferry dock (Emerald Isle ferry from Charlevoix) and municipal marina, located in the NW portion of the harbor, provide a good landmark to steer for. Although the local marina offers transient slips, St. James Harbor provides good holding and shelter, making anchoring preferable*, especially if you have a dinghy to go ashore.
*Anchoring is especially preferable thanks to the harbormaster at the Municipal Marina who, apparently, has little affection or patience for visitors to his island.
Buoys in the inner harbor mark a channel to the northern part of the harbor. There is good* holding in a sandy bottom with moderate depths. Our preference was to nose into the shallower water at the southern end of the inner harbor to reduce rode length. We anchored in about 10-12 feet of water and set out 70′ of rode for a scope of 7:1. *Our experience during the rendezvous of 2010 indicates that holding can be marginal. An abundance of weeds resulted in two members dragging their anchors or having difficulty setting. Be sure to back on your anchor to ensure that it is well dug in.***
The island is not especially dinghy friendly, but we discovered that the folks at Beaver Island Marina, at the north end of the harbor, are happy to let sailors use their beach for coming ashore.
Local sights ashore include a historical society and museum, with much attention given to King Strang and the island's Irish heritage. There are a few local eateries. A store located near the Beaver Island Marina provided easy dinghy access. I understand that there is some great hiking and camping on the island, but we didn't look into that.
Without a doubt, the best part of Beaver Island is the harbor. The solitude, the wooded shoreline, the sounds of a pulpwood tug, and the absence of other boats make St. James Harbor a peaceful getaway.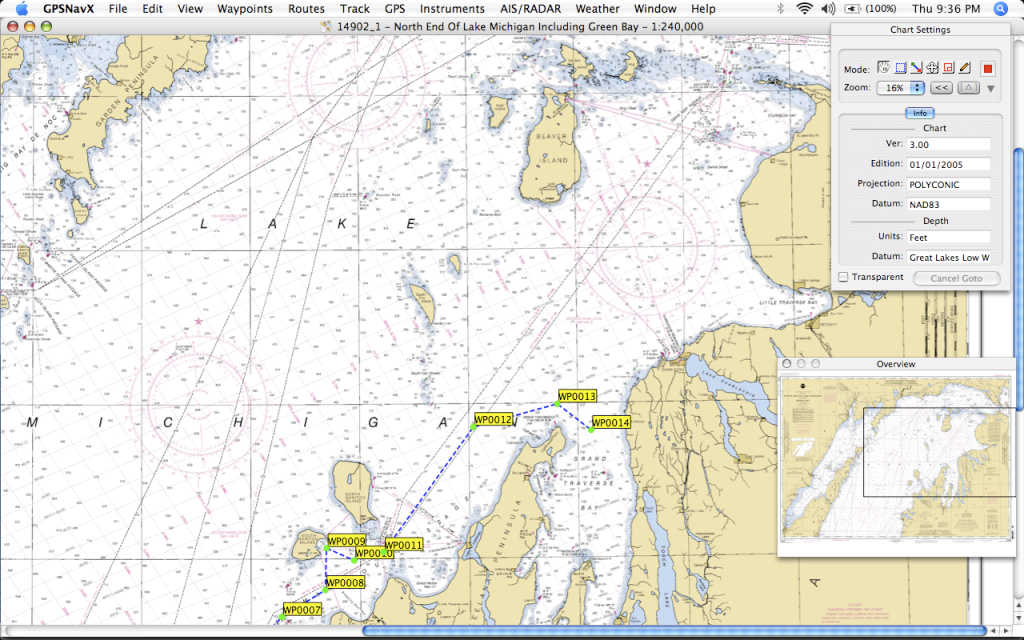 About 27nm NNW of Charlevoix and 37nm from the north end of Traverse Bay, Beaver Island is a good destination for those interested in a weekend getaway.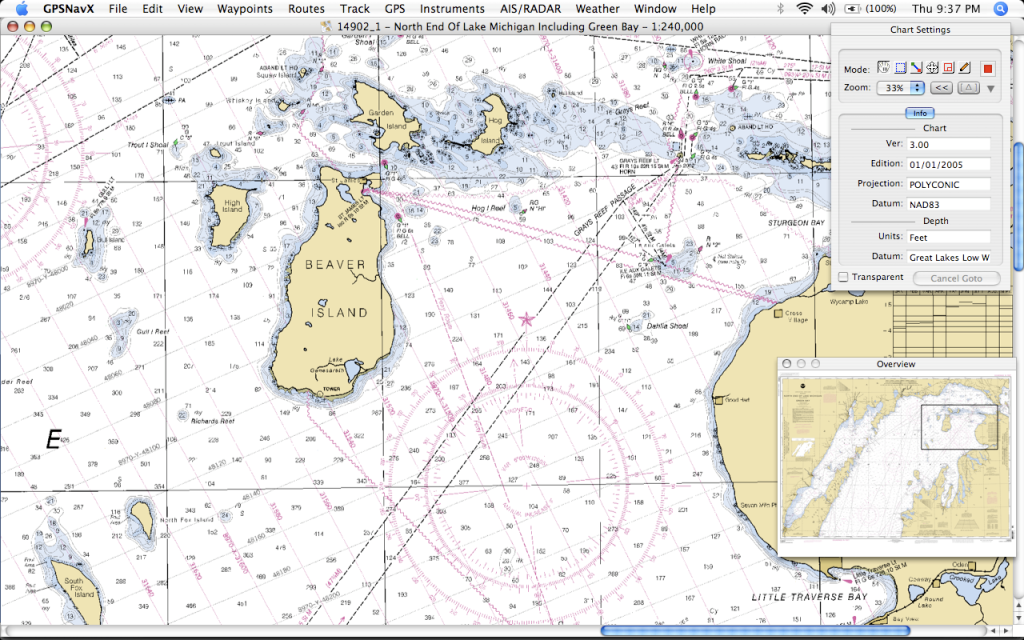 Beaver Island and its surrounding islands – Fox, Garden, Hog, High. Although cruisers can explore the other islands, thin water and exposed anchorages require more caution and planning.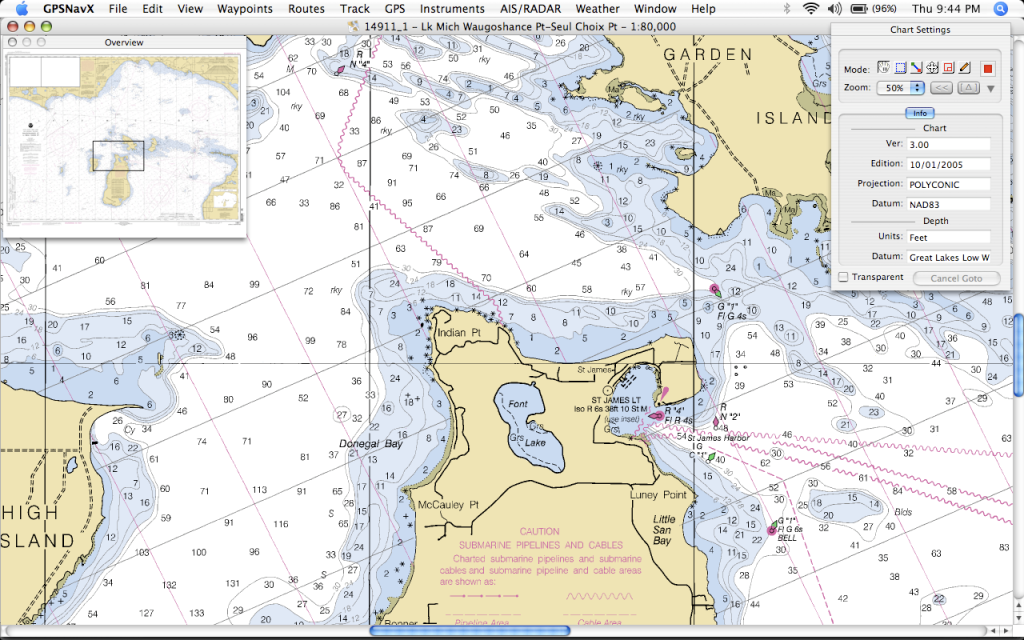 The approach to St. James Harbor.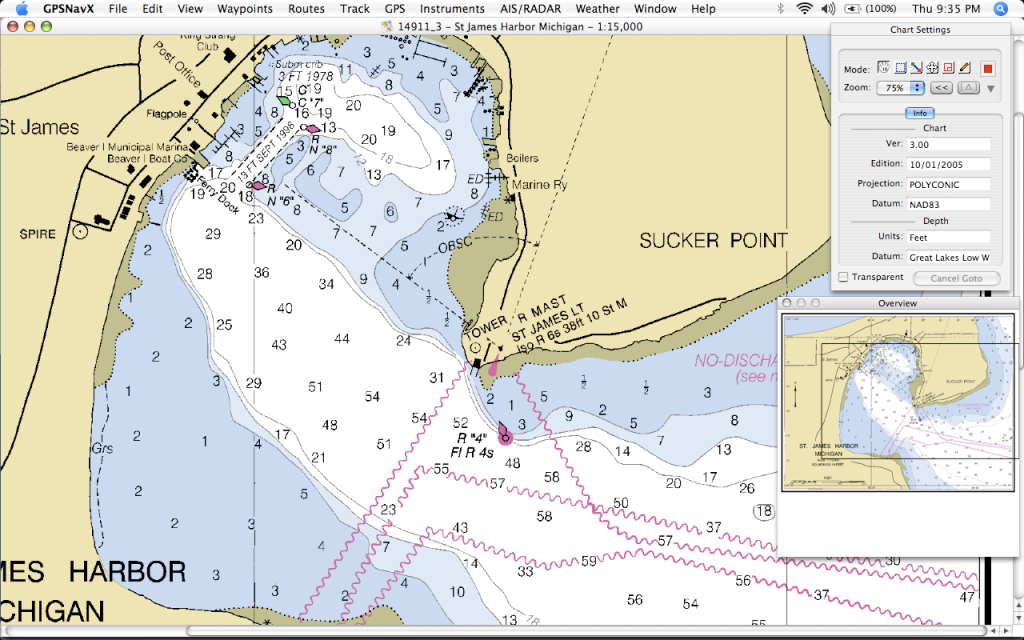 Boats with a shallow draft can cut north into the main harbor. Deeper draft vessels must exercise caution or use the channel.
Photos of Beaver Island's St. James Harbor